We're passionate about food!  
And we believe the food and drinks are as important as the venue itself.   And we want you to experience the very best of Irish local ingredients and our personal professional hospitality at your wedding.
Our Award Winning Head Chef David Rice has  created a range of both Formal and Casual Dining menus for all types of groups that offer you a variety of options to choose from.  And they are designed to cater for a range of tastes and styles.  And if you are staying with us the day before or day after your wedding, then we also have a whole host of fun Casual Dining options to choose from.  
Your unique mix of eclectic style and understated 5 star service definitely put you in a league all of your own.
Adriana and Mark, Dublin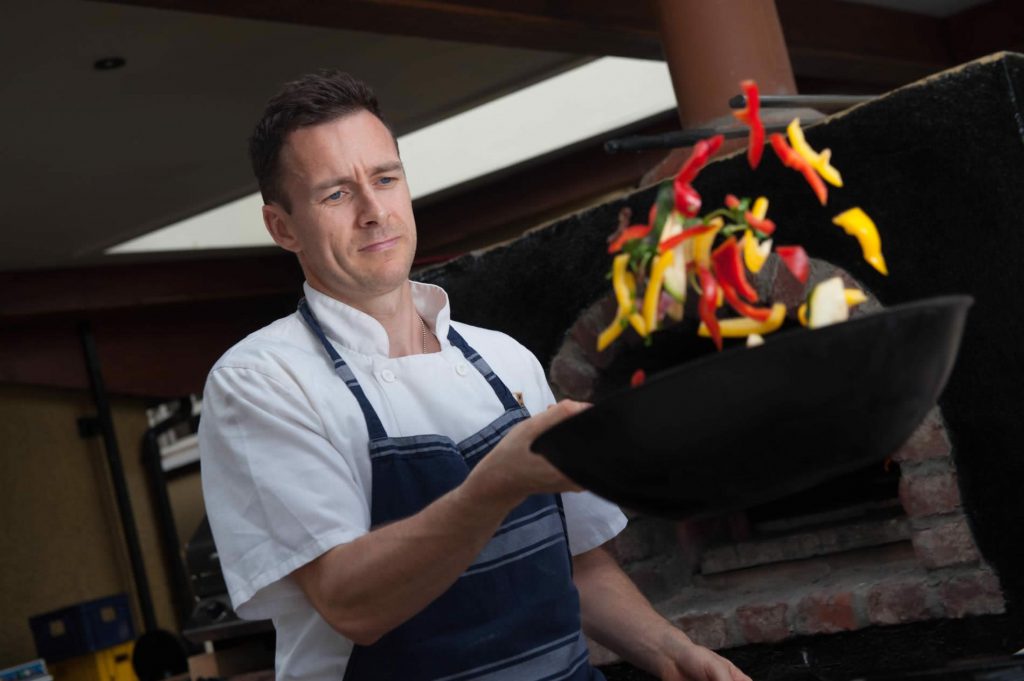 Our dynamic Executive Head Chef David Rice is young and enthusiastic – and loves creating food that is delicious, restaurant-quality, locally sourced and beautiful to look at.
David brings with him a wealth of both traditional fine dining and contemporary dining influences from home and abroad – and include Dublin's Michelin Star restaurant Chapter One, Irish country house Mustard Seed Lodge, and overseas stints at River Café, Jamie Oliver's Fifteen and Gordon Ramsay's Claridges.  And he was even on the team of chefs who cooked for the Queen of England's Royal Visit to Dublin Castle!
David also won Ireland's Best Young Chef in 2010 and Best Use of Local Ingredients 2009.
David loves to share his knowledge and teach.  He was previously Head Chef at Ireland's largest Cookery School 'Cooks Academy' so also runs our onsite cookery school – the Kinsale Gourmet Academy.  His ethos is all about 'gourmet made simple' and healthy conscious eating.  
The food – from the barbecue, to the canapes, wedding meal and late night pizzas – were simply outstanding and everybody was raving about it.  Thanks to David and his incredible team.
Darren and Maria – Dublin
Have a look for yourself ...
Contact Us TODAY TO START PLANNING