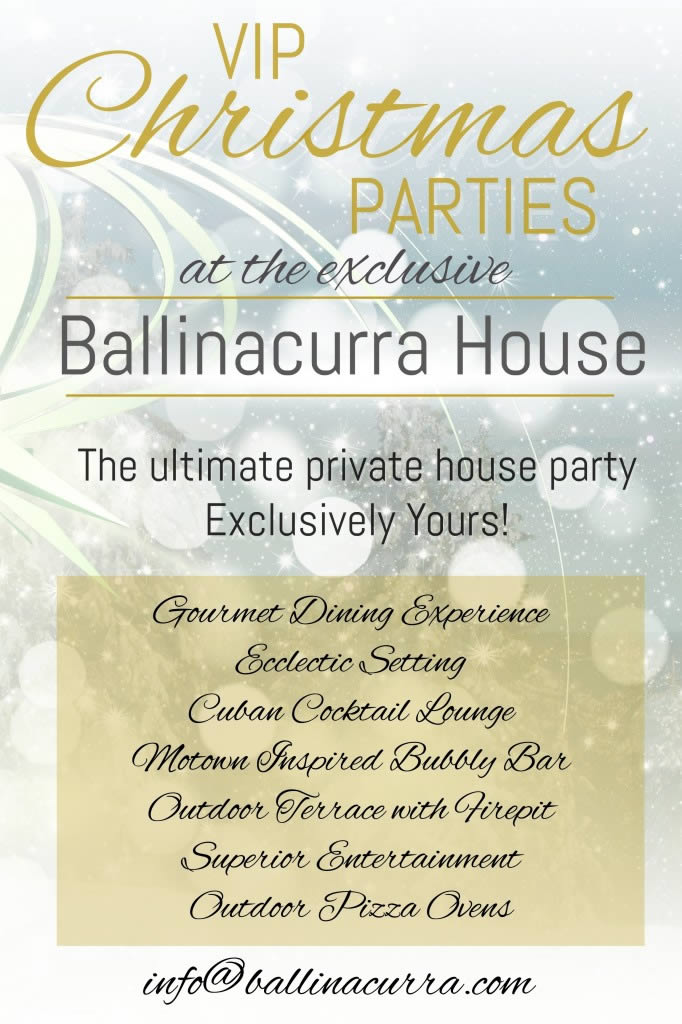 A PARTY TO REMEMBER
If you are looking for a party that your clients and staff will never forget, then you've come to the right place. Ballinacurra House is Kinsale's best kept secret! We can work with you to plan a stress-free party to meet your needs. The eclectic setting of our award winning estate will set the tone of your VIP party. With a range of additional features to consider; like the Cuban cocktail bar or the Michael Jackson inspired Bubbly Bar, you will be spoiled for choice.
WHY IS IT SO SPECIAL?
You have the whole house and property for your enjoyment– as we only ever rent to one group at a time. The ultimate private house party venue which is only ever Exclusively Yours!
We have developed a Private Christmas Celebration Package for companies is based on a minimum of 30 people (up to a maximum of 150 people) – and it includes:
 Glass of our Homemade Mulled Wine on arrival
 4 Course Set Festive Dinner(Silent vegetarian option included free of charge)
 House wine over dinner (1⁄2 bottle per person)
 Tea and coffee served all night long in the Red Room
The price is €80 per person including all service charges, VAT, government charges, etc. All additional beverages are paid on consumption either by guests or the company.Optional Extras – If you wish you can also add:
 Canapes – 3 types – €10 per person
 Additional choice within courses – €10 extra per person
 Supper – €10 per portion
 Homemade Pizza Supper – €12 per portion
 Entertainment – ask us for suggestions
And remember we have up to 22 en-suite luxury bedrooms available as well if you'd like to stay overnight – Just ask for prices.
Our Head Chef David Rice has prepared this year's Festive Menu. All you have to do is choose One Option per course for your guests. If you'd like to offer your guests a choice, that's no problem but there will be a supplement charge. And we offer a silent choice for vegetarian and other dietary requirements free of charge in every course. If you have any special requests or would like us to prepare a bespoke menu for your group, just let us know.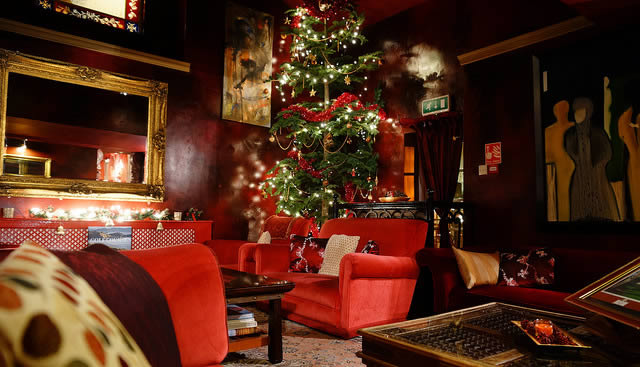 Starters
 Warm Smoked Salmon, Dill & Crème Fraiche Tart with Pickled Cucumber
 Confit Leg of Duck with Spiced Puy Lentils & Celeriac Crisps
 Goat's Cheese & Walnut Fritters with Fig Jam & Pickled Beetroot
 Chicken Liver Parfait with Toasted Brioche & Confit Onions
 Crab & Salmon Fishcakes with Harrisa Aioli, Yoghurt & Cucumber RelishSoup or Sorbet – Let us know if you would like Soup or Sorbet and the Chef will let you know his recommendation
Mains
 Aged Irish Beef Striploin with Celeriac & Potato Gratin, French Fried Paprika Onions & Pepper Sauce
 Butter Roasted Turkey with Creamed Bacon & Cabbage, Thyme & Onion Croquette & Cranberry Jus
 Peppered Duck Breast with Smoked Morteau Sausage, Pickled Cabbage & a Cider and Apple Jus
 Roast Cod with Artichoke, Tarragon & Crème Fraiche Risotto served with Braised Leeks
 Spiced Monkfish with Cauliflower Cream and a Spiced Chickpea Cake
Dessert
Warm Apple Crumble Pot with Vanilla Bean Ice Cream
Sticky Toffee Pudding & Butterscotch Sauce
White Chocolate and Baileys Mousse