If you've ever hosted a sizable gathering, you know that it's practically impossible to spend quality time with everyone. That's the reality. So Sarah from Dublin & Andy from Brisbane, decided to turn the traditional wedding rules on their head.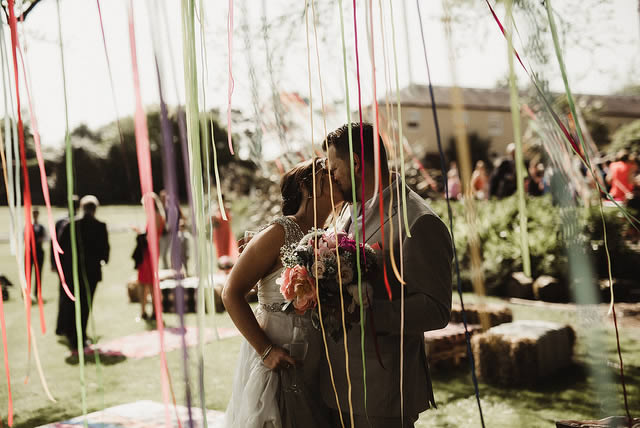 They both live in Perth, Australia and wanted to have their wedding in Ireland but they didn't want a traditional Irish wedding. Instead, they envisaged a more relaxed-chic part atmosphere – more like a 'festival of love' surrounded by all of the people who are special to us present to celebrate our special occasion.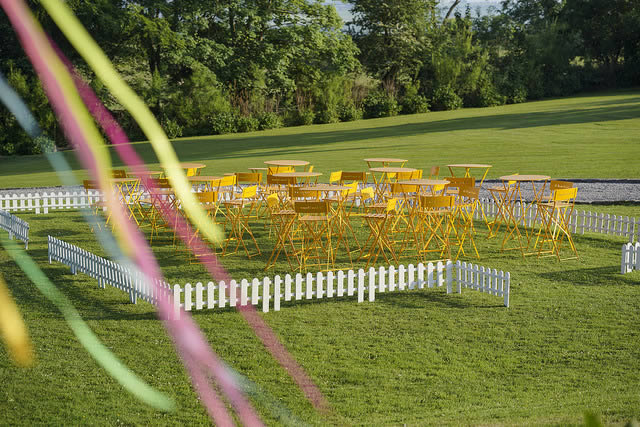 If you are having guests from abroad, its always a good idea to have a pre-wedding get together or rehearsal evening. This allows plenty of time for getting over the jet lag but also really helps the guests to get to know each other. This will result in a more relaxed and enjoyable wedding day because guests already know each other.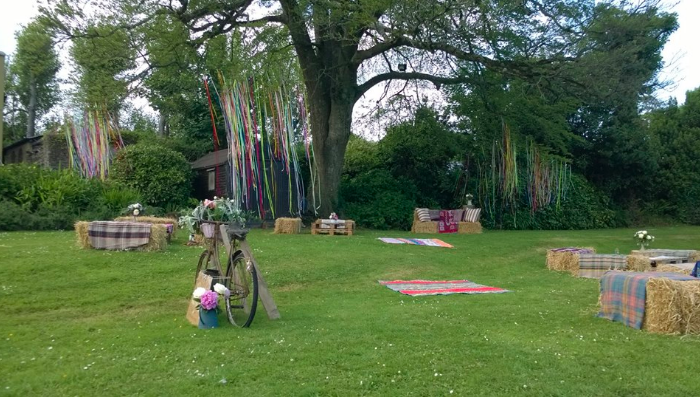 It also means that you will have the entire place to yourself on the wedding morning. So instead of it being a stressful morning it can actually be a lovely part of the celebrations, where some great memories are made with your loved ones. (The last you will get to make, before saying I Do!)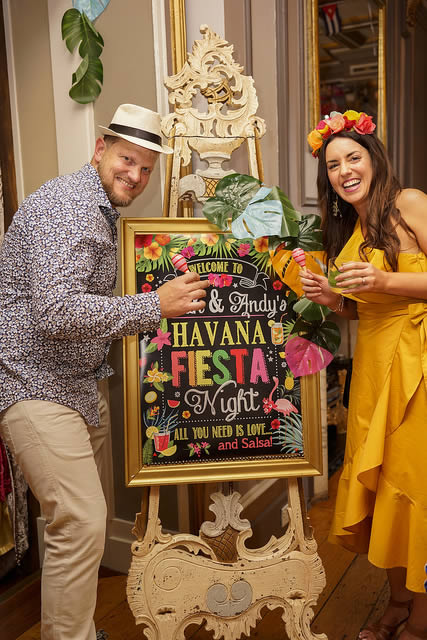 The guests arrived at the property on Friday afternoon, where they were welcomed by staff and shown to their rooms before congregating down in the main bar area for drinks. At 7pm guests were ushered into garden room for an informal rehearsal dinner.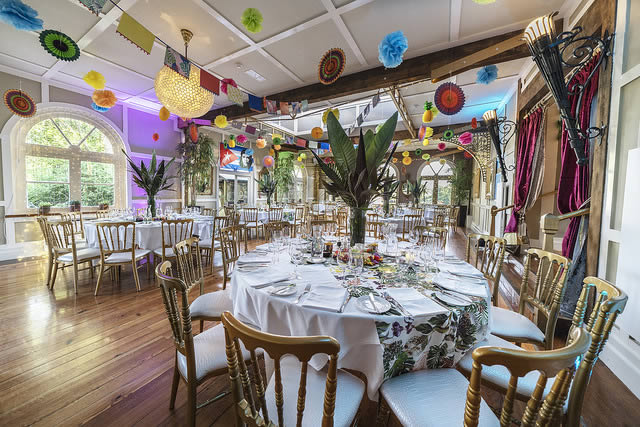 Stuart Immelan of Rococco Designs and the staff had transformed the space into a "Havana Nights" themed Cuban fiesta complete with Cuban flags, bunting, coloured pompoms, tropical floral arrangements and cigars. Guests were served burritos, which were delicious and fresh, and drank amazing cocktails from the Cuban Cocktail Lounge, which is a permanent fixture at Ballinacurra.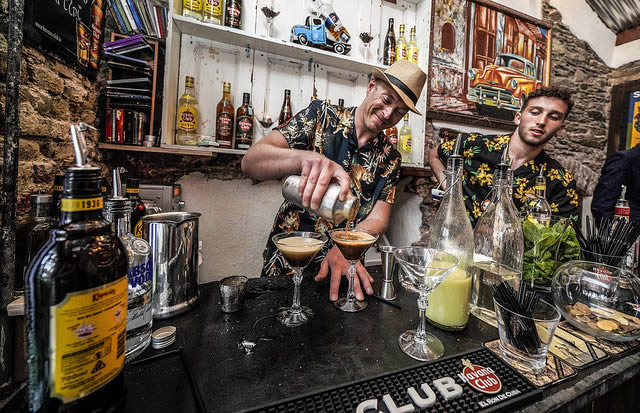 Guests were invited to participate in a salsa lesson provided by a Caribbean dance troupe, which was a great way to get everyone mingling and warmed up for the weekend's festivities. It was great fun! This was followed by a local traditional Irish duo  (another Ballinacurra recommendation) back in the bar. They got all our guests singing and dancing. This was the perfect start to their festival of love.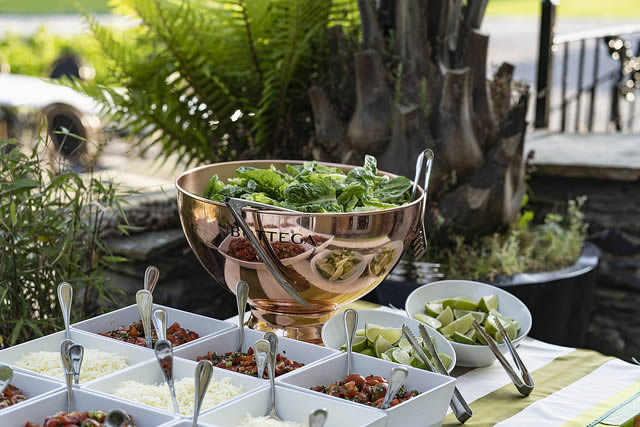 Saturday, was the "Big Day". It couldn't have gone better. The day began with a yoga class in the ballroom with Cork-based yoga teacher Lisa Fahy. The class helped calm some of the nerves and left the bride feeling relaxed and ready for the day ahead.
The groom and his friends were entertained by the Ireland v Australia rugby match in the bar complete with Bloody Mary breakfast cocktails after a breakfast on the terrace (so that he wouldn't run into the bride before the ceremony!).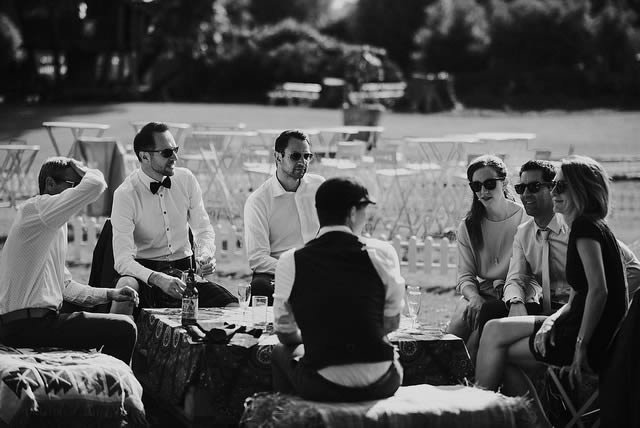 Both bridal parties had their own spaces to get ready which made for special backdrops for the photos and a lovely relaxed morning for both bride and groom.
After an intimate ceremeny in the local church, guests returned from the wedding ceremony to find Stuart had transformed the outdoor terrace and front garden into a vintage country picnic complete with straw bails, makeshift wood-palate tables, picnic blankets and hundreds of yards of colorful ribbons in the trees.
This was accompanied by prosecco and antipasto for all guests and they were entertained by a fabulous jazz trio through the wedding band.
After a few hours of drinking and mingling in the rare Irish sunshine, guests were guided into the garden room, which Stuart had converted into a glitzy New Orleans style garden party. The speeches were completed first and a roving style cocktail dinner menu then followed. The monkfish, pork belly and lamb were all highlights of the superb menu which were created especially for the couple by our head chef David Rice.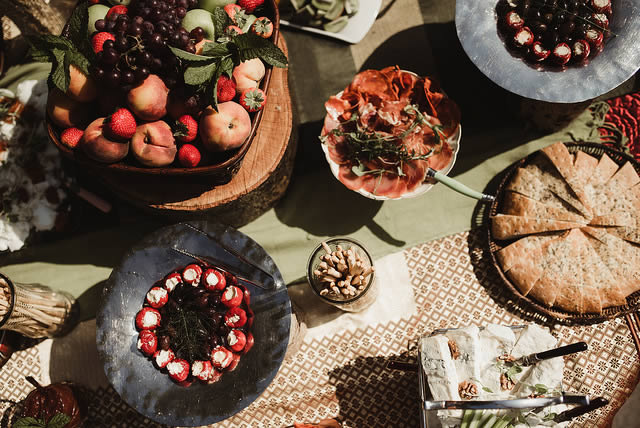 Guests were then further entertained by a local mentalist, performed a variety of tricks that had everyone astounded and perplexed. He was the talk of the evening! The highlight for the bride was when he got her to blow on a 50 euro note causing the sudden appearance of a goldfish in her glass!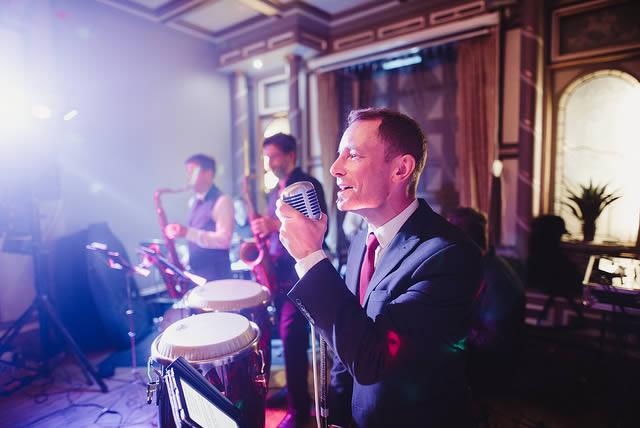 As the food service ended guests took to the dance floor with the 6-piece lounge band. Later in the evening guests were invited to a Moroccan inspired sisha lounge that provided a chill-out space for guests to relax and mingle with the variety of flavoured e-shisha and providing a great talking point. At midnight the staff served wood-fired pizzas and a DJ took over from the band until the wee hours of the morning.