The Ballinacurra House Travelogue Series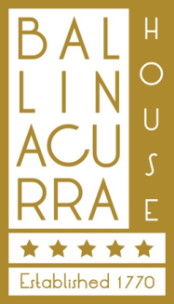 "Because Life is for Living!"
Escaping the Ordinary this year might require a little more than simply canceling your Netflix subscription as lockdown has left many of us, both Young and Old with square eyes and squashed dreams when it comes to your next family escape… and with International Travel playing "Hard to get!" perhaps it is time to dream a little closer to home for that once in a lifetime family foray that's "Easy to have!".
Kinsale might seem like the very epitome of a charming sleepy seaside village, and whilst charming it might be…but sleepy…well only on Sundays! Kinsale is renowned for its cosmopolitan flair, with bustling cobbled streets, brightly painted cottages, gourmet and organic cafes, artisanal restaurants, rich history, vibrant art scene and galleries, eclectic shopping, incredible vistas, and above all clean fresh country air, and spectacular unspoiled nature for miles.
Whether you have a whole brood or are simply a bonafide solo enthusiast we have put together our top picks of events and activities in and around Kinsale that will inspire the whole family to make a break for freedom from the couch for a sublime Irish Summer Holiday…and rediscover the beauty of Ireland that is on our very doorsteps!
Windsurfing, surfing, bodyboarding, Sea Kayaking and much more…
Sun, Sea, and water adventure galore, you will be spoiled for choice! Kinsale is just a stone's throw away from Garretstown Beach and a boisterous day of ocean fun, for young and old alike. Take to the waves with Oysterhaven Outdoor Activity Centre or The Kinsale Outdoor Education centre for fun-filled group activities or entire days crammed with action-packed ocean adventure and activities – the perfect place for kids to meet new Summer friends and make unforgettable memories.
https://www.oysterhaven.com/activity-centre-cork/home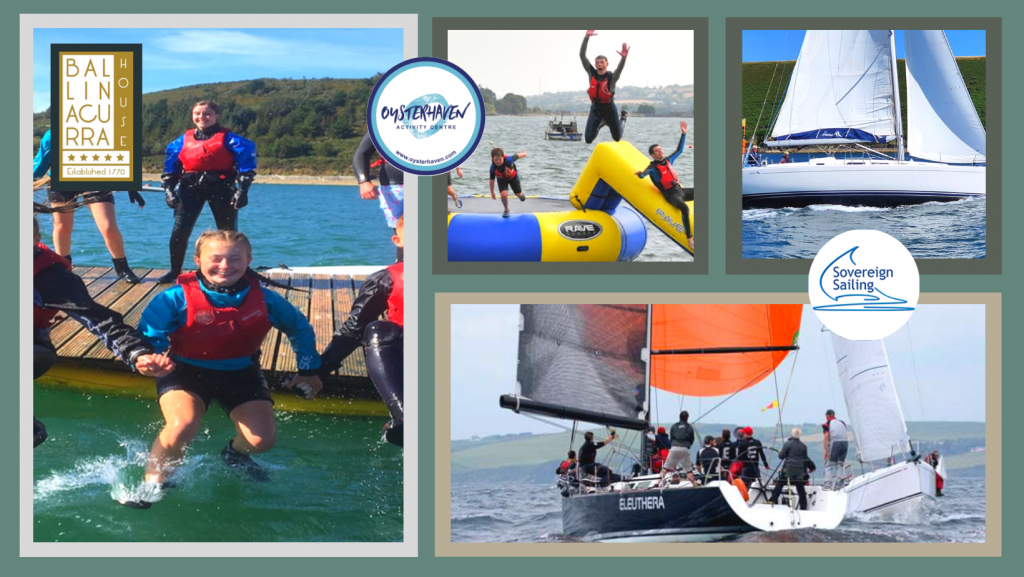 Horseback Riding on the Beach.
If feeling the sun-dappled beaches flying by at a brisk canter, why not take to the sands and enjoy the freedom and wind whipping through your hair atop horseback- discover hideaway beaches and see the wild Irish Countryside roll by from a new perspective. Kinsale equestrian centre offers tailor-made private horseback escapes so that even you can finally feel like John Snow galloping down the beach to Kings Landing.
https://www.kinsale-equestrian.ie/
Sailing:
For those more inclined to be reclined in a far less taxing and ultimately more luxurious adventure, why not charter a spectacular day of sailing onboard a luxury yacht and take to the Celtic sea with Sovereign Sailing to experience the rugged and glorious coastline of West Cork! Sail around the Old Head Peninsula, bask in the sun as you slip past Spike Island, and experience the wonder and abundance of Irish Sea life with chance encountered Whale and Dolphin watching…after all nothing says lifestyle more than Champagne at Sunset from the deck of a private yacht. Monaco eat your heart out!
Try Sovereign Sailing Kinsale or the Kinsale Yacht Club.
Art & Pottery:
For uncompromising fun, (and laundry disaster!) … just add clay! Kinsale Pottery & Art School have a sensational line up of Summer Pottery and Art classes to set your creative spirits free. Their innovative and interactive approach will not only have the whole family entertained for hours but will impart new skills. Just think of the treasured keepsakes-like the ugliest ashtray in the world (Originally a side plate) …the one you simply can't bear to part with because of the unforgettable day you had making it with the kids. If Demi Moore can do it-so can you!
https://www.kinsaleceramics.com/
Fishing:
From Ship, to Shore…to your front door! Nothing beats of thrill of fishing on the open sea for the angling enthusiast. So, if hook and bait are more your style, Kinsale has a plethora of daily fishing excursions, from Deep Sea chartered fishing, to freshwater angling for Salmon and Rainbow Trout in the cascading streams and rushing rivers of the backwaters of the Irish wilds. We will have you hooked-up in no time!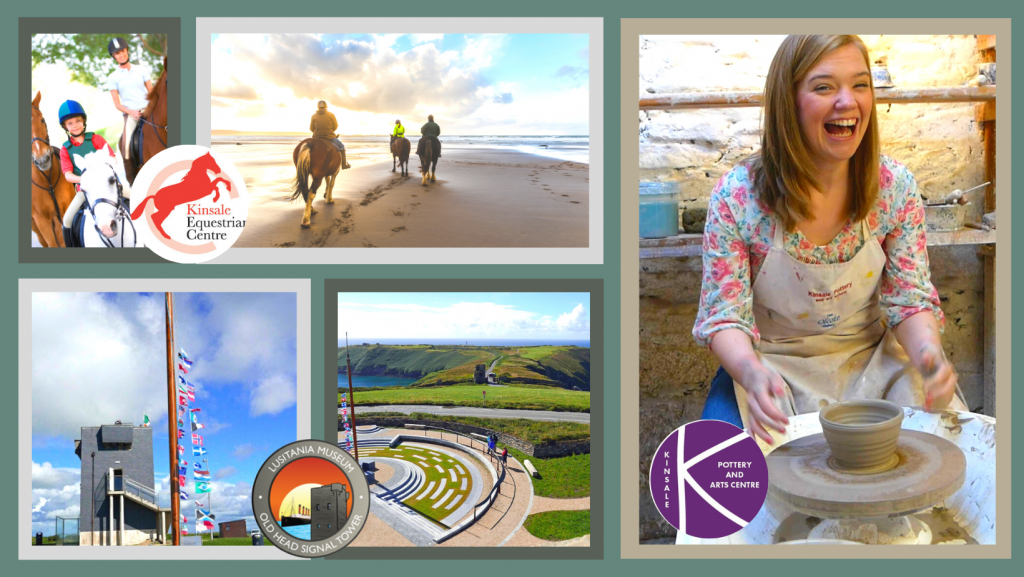 Golfing:
Take to the greens in style at The Old Head of Kinsale for an unparalleled day of Sun, Skill and world-renowned golfing. Hailed as one of the most beautiful and exclusive Golf Courses in the world, the Old Head majestically perches on a spearhead peninsula that sprawls into roiling Celtic sea, and with sheer craggy cliffs plummeting to the Ocean floor, and offers one of the rare "once in a lifetime" and "heart-racing" rush of playing over open water. So why not start with a tee and end with a toast! The ultimate golfing experience for any golf aficionado.
Harbour Cruise:
For a more sedate and sun-soaked adventure, why not chug along with the Kinsale Harbour Cruise? This short excursion is fun filled, with an informative and history packed narration that allows you to take in the breath-taking views of Kinsale Harbour, Charles and James Fort, all from the comfort of their Sunny deck with your favourite tipple.
https://www.kinsaleharbourcruises.com/
Heritage walks and History tours:
Why not take a leisurely stroll through the cobbled streets of Kinsale and be regaled with tales of its rich cultural heritage and quirky history, masterfully woven together by expert guides, Dermot Ryan or Don & Barry's History walk, who will take you on the mad and mythical journey of Kinsale. From the visceral Battle of Kinsale to the dark depths of the French prison and back again to the legend of the Kinsale Giant or the Wailing White Lady of Kinsale…there is folklore and legend aplenty to keep even the youngest of us wide eyed and entertained.
Kinsale Heritage Town Walks: (Dermot Ryan)
086 826 7656 / 021-4772729 /[email protected]
Don & Barry's History Walk Kinsale:
(021) 477 2873 Mob: 087 2500731/ [email protected]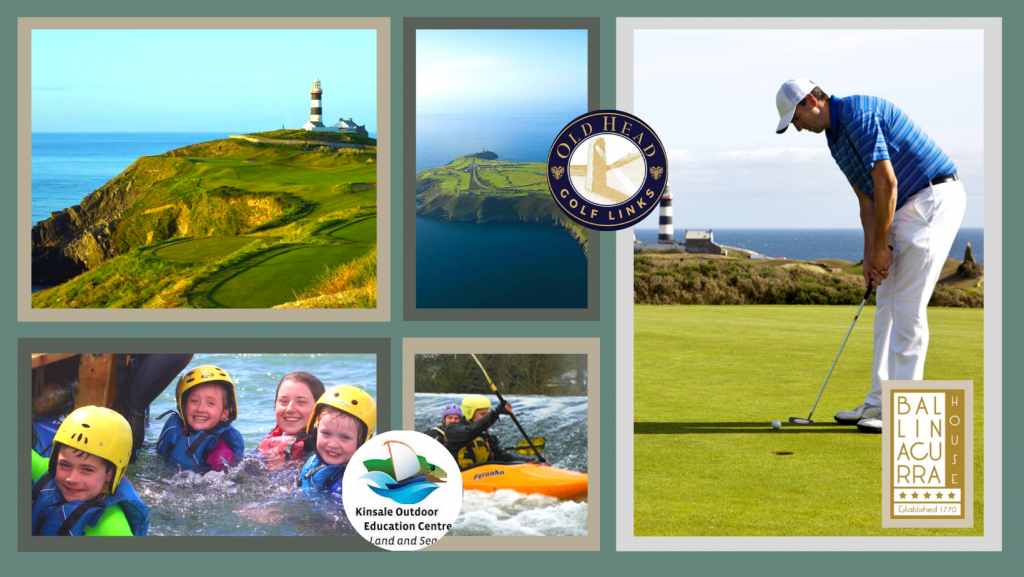 Charles and James Forts
(Dún Chathail, Cionn tSáile)
For those of us who love the rambling ruins of days gone by, why not marvel at the ingenuity and engineering of Charles Fort, one of the finest examples of a Star shaped Fort in Ireland. This illustrious military complex was the largest construction project in Ireland during the 17th Century and is perfectly poised on the harbour to give you sensational views across the harbour…a romantic hotspot to while away the sunset on a Summer's evening.
https://heritageireland.ie/places-to-visit/charles-fort-national-monument/
Lusitania Museum and Signal Hill
Step back in time to dawn of the nautical history and nostalgic prowess of the original Titan Ocean Liners and be beguiled by the tragic sinking of the RMS Lusitania, which was torpedoes by a German U-Boat during World War 1. The Signal Hill Museum also stands testament to tells the tale of the history of the Irish Signal Towers…a must for Ocean Liner fanatics and those who simply can't resist the romance and calamity of Titanic scale disasters.
https://www.oldheadofkinsale.com/
With so much to see and do, we hope that we have inspired you to look no further than up or down the wild and adventurous country lanes of Ireland, and with Kinsale truly being a Town for all Seasons, there is no better time to plan that unforgettable family trip to rediscover the beauty of Ireland. Join us for our next edition where we will wine & Dine you with our top picks of Gourmet hotspots, Bohemian and contemporary Art Galleries, Scintillating shopping and of course the elusive hunt for the best pint of Guinness in Kinsale.