The Ballinacurra House Travelogue Series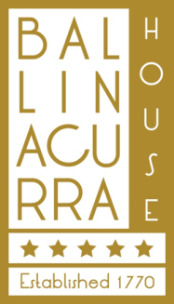 Day Trips for Road Revellers!
For Some, the ideal getaway would be to fritter away the day, languishing by the poolside with a Long Island Ice Tea or whittling away the evening in front of a cozy fire with a good book…and whilst the polar extreme of adrenaline junkies and eye-watering high octane thrill-seekers is true, there is a sweet spot in the middle for those of us with a free spirit and a zest for life who prefer things a little less demure, a lot less dangerous and yet filled with active adventure and endless possibility.
For the brave and the bold of us who heed the call of the open road and relish the chance to feel the wind in our faces, seize the day and the call of the wild to hunt and unearth new experiences and unforgettable discoveries, we have put together our quintessential guide of daring day trips and road revelry to quell your adventurous heart and keep you, and your hiking boots, thoroughly entertained!
These are our top picks for those who dream of taking to the open road and enjoying life to the fullest on their Irish Summer getaway to rediscover the beauty of Ireland.
Mount Gabriel (Schull): (Cnoc Osta)
Not for the faint of heart, Mount Gabriel offers the most spectacular and unbroken Vistas of natural beauty overlooking Schull and out over the Celtic Sea in an imposing panorama including Long Island Bay, Roaring Water Bay, Carbery's Hundred Isles, Beara, and finally South Kerry…all from a single vantage point!
Set aside a day for this as the rugged landscape and sensational scenery will have to be earned by breaking out those hiking boots…and as the Irish weather always has a trick up its sleeve, take a warm jacket and plenty of bottled water to keep you hydrated.
Knockdrum and Gurranes Stone Row: (Cnoc Droma/Na Garráin)
Forts have come in all shapes and sizes and seem to have been one of our ancestors' favourite pastimes. Knockdrum Fort lies on a dappled hillside on the outpost of Skibbereen and is one of the finest examples of a ring fort. The view over the bay is scintillating and just a stones' throw away on the neighbouring hillside you will find a testament to the ingenuity of the ancient Celtic standing stones with Gurranes Stone Row, the sheer size and placement of these stones is remarkable.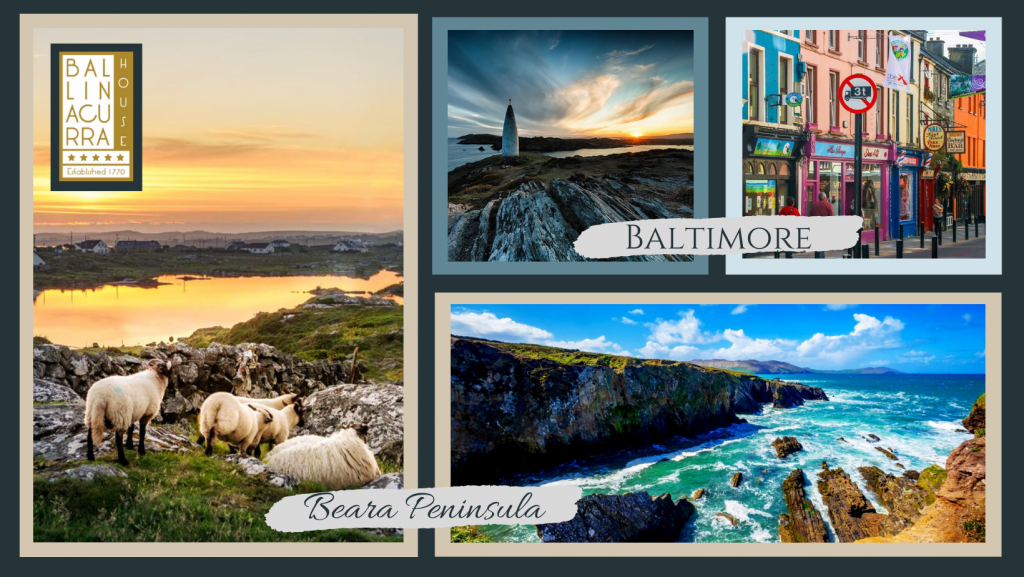 Glengariff: (An Gleann Garbh)
This sleepy seaside village is anything but, surrounded by pristine Wild Irish Woodlands it sits as the Gateway to the Beara Peninsula, the lesser-known and ultimately unspoiled cousin to the Ring of Kerry. This mecca of untouched natural beauty is partly due to the Glengariff Nature reserve which offers pathfinders rushing waterfalls amongst ancient thickly forested woodlands and hours of fresh air hiking in some of Irelands most untamed wilderness.
Garnish Island: (Illnacullin/Garinis)
Just a hop, skip, and a short ferry ride away from Glengariff lies one of Irelands' hidden masterpieces, Garnish Island, often referred to as the Italian Gardens due to the entire island been landscaped to reflect a myriad of species of plants and flowers not found anywhere else in Ireland. A botanical delight broken by Romanesque ponds and unrivaled views with a sensational café for a quick bite before exploring the exceptional gardens.
We Advise you to combine Glengariff and Garnish Island into a single-day trip as between the two you'll be spoiled for options and as always pack for the unpredictable.
The Beara Peninsula: (Mórchuaird Bhéara)
Welcome to the remote and western wilds of Ireland. The Beara Peninsula is famed for its seclusion and natural terrain, this 140kn drive around the pristine and desolate, will take you on a heart-pounding journey of sheer, hair-raising, winding lanes set against the backdrop of wind chiseled cliffs and unspoiled landscapes that will haunt you. The ring of Beara is inaccessible to coaches and larger vehicles and as such has remained one of the infamous natural wonders of Ireland…unlike the larger Ring of Kerry that has become a tourist trample zone.
Beara is captivating and conjures an air of the last frontier with one lane villages popping up out of rocky outcrops and sheep frolicking against jaw-dropping cliffs awash with lush windswept grass – you really will feel like you have been transported to another planet, perhaps just like Skellig, you may believe you are in a Star Wars Movie.
Killarney: (Chill Airne)
For those wanting to experience a true slice of Irish life, there is no better town than Killarney. A town that weaves together the rich tapestry of ancient ruins and historical sites, to cobbled streets alive with the buzz and tempo of traditional Irish Music, a plethora of Irish pubs with sensational traditional fares, and unrivaled shopping…Killarney is always inspiring and unique.
From the 6th Century Muckross Abbey to the Torc Waterfall Trail and Cardiac Hill, Sunset Kayaking, Rock climbing at Dunloe, or experiencing the 15th Century Ross Castle by guided tour and discover why the modern toilet is a Godsend, the list is endless and is sure to keep you on your toes!
We suggest you allow a full-day excursion for Killarney as time flies when you are having fun.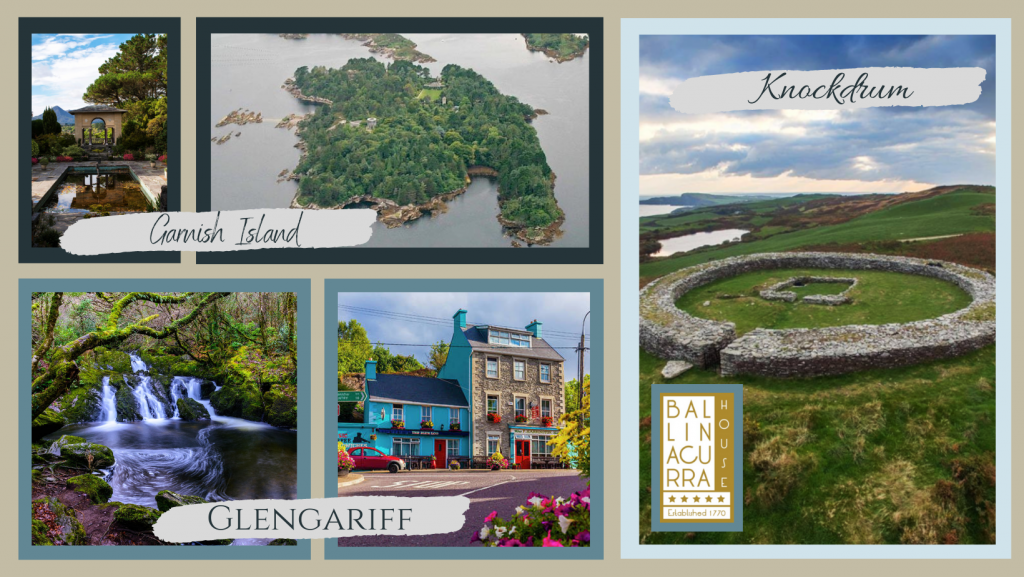 Three Heads Mizen Peninsula: (Carn Uí Néid)
This is the perfect exploit for a sunny day and will have you dusting off those hiking boots as you wind your way through Irish fields and farmland to reach the monolithic ruins of this Norman Castle overlooking Dunlough Bay. Three Castles is the perfect spot for a picnic overlooking the uninterrupted sweep of the Bay below in the shadow of a bygone era.
Baltimore: (Dún na Séad)
As Glengariff is the Gateway to the Wild Atlantic Way, Baltimore stands as the final stop on this winding and craggy expanse of Irish Coastline. Baltimore is the embodiment of Irish Beauty, with the air of romance bourn from Fabled Irish Storytelling. Steeped in history, this rustic village of brightly painted houses boasts a treasure of shipwrecks, ruined castles, ancient towers, and all manner of archaeological sites to explore all on the doorstep of the Archipelago of Carbery's Hundred Isles.
We suggest you put aside a day for this as Baltimore sports a host of artisanal cafes, galleries, and traditional Irish stores with handmade Irish goods to keep even the most avid shopper entertained.
We hope we have inspired you to seek out those far-flung escapes on your next Irish Summer Getaway, to take to the open road, and to truly experience the insatiable beauty that Ireland has to offer. Join us for our next edition where we will spur you on with our top picks for Family Frenzy Activities to keep from the youngest to the "young at heart" in and around cosmopolitan Kinsale.