Planning just got Easier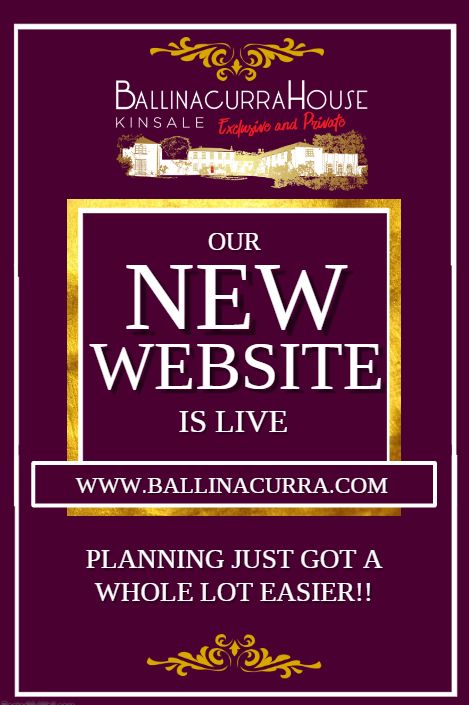 We are very excited to unveil our new look website. It has been many months in the works and we are thrilled to let you see a little closer into the wonderful world of Ballinacurra!
For years feedback from customers has let us know that we are doing something very different to other venues. We have always kept a close ear to what people want out of an event and also an even closer eye on event trends abroad so we can continue to surpass expectations.
Ballinacurra truly is one of those venues you have to see for yourself to appreciate. People have grown tired of attending wedding after wedding in the same generic locations and are looking for something different and special – hence the rise in demand for eclectic properties likes ours. We have been pioneering the private wedding and events concept for years now and its now become the hottest trend in the industry.
We have spent the last year further upgrading the property and adding new stylish and fun features like the Bubbly Bar, the Champagne Garden, The Outdoor Terrace etc. Our next task was to upgrade our website to reflect all of these glorious additions.
Would you believe that we often get couples who book their wedding with us and they have never even stepped foot on the property! Now people living abroad can step inside Ballinacurra through our new website and get a feel for the place.
Our ultimate goal for weddings and events is to keep them stress-free for the host. Our robust planning system that we have developed over the years has helped us to perform this task effortlessly. But we have decided to take our expert planning skills to another level and use our new website as an additional resource to inspire and help couples even further.
We like to think our new website also captures our beautiful location. Ballinacurra is blessed to have Kinsale as its backdrop – one of Ireland's most beautiful fishing villages With its unique mix or arts, culture, fishing and water-based activities, world renown golf course and of course the culinary reputation of the town; there is something for everyone.
Guests of the house also fall in love with the aesthetic and atmosphere of the place. Our new website will allow us to share some of the finer details of the property and allow you to explore the range of themed roomed and ornate nooks and crannies so you can envisage your stay.
The website will also let you explore the gourmet dining options that are available. So come along in and take a peek around our virtual tour of the property. Who knows, it might inspire you to plan an occasion just so you have an excuse to come and stay with us! We would love to hear your feedback. Better still, come down for a private tour and we can talk through some ideas with you [email protected] 021 4779040