5 Reasons to Get Married in Kinsale

For unforgettable experiences and much-cherished memories, couples are choosing Kinsale as their wedding destination of choice. And why not?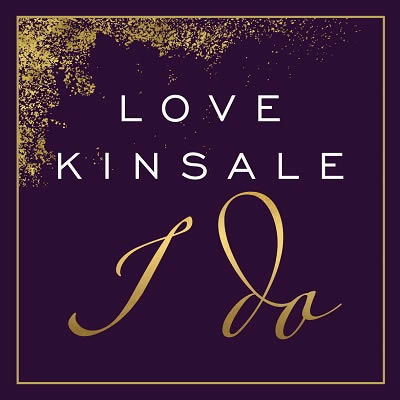 Dubbed the Wedding Capital, Kinsale has the perfect formula when it comes to weddings. It is hard to find any other European location that offersthe romantic vibe, beauty of the natural coastline, world class venues and heart-warming friendliness of the people. Adding to the equation, the culinary reputation that is boasts, which makes Kinsale a destination that is hard to replicate anywhere else.
Here are five top reasons why you should put Kinsale on top of your list of wedding destinations.
 1. Location – Easy Access
Located just 20 minutes from Cork Airport, Kinsale in a convenient destination to get to with access to both national and international airports. The city itself has a variety of transport offerings. Since Kinsale is the starting point of Europe's longest coastal road, The Wild Atlantic Way, it's the perfect opportunity to keep travelling on the coastal route and take in the breath taking scenery in the days after the wedding. Maybe even incorporate a trip to kiss the Blarney Stone or visit the Cliffs of Moher.
2. Gourmet Food
It's hard to mention Kinsale without mentioning great food since this foodie town enjoys the reputation of being the Gourmet Capital of Ireland and with good reason. Food is celebrated in this seaside town with so many options to choose from fantastic restaurants, fine dining and casual, cafes and bars serving delicious, top quality food with a great atmosphere. By nature, we are blessed to be surrounded with water, a country covered in green fields. Though we resent the rain most of the time, it's fair to say that rain 365 days of the year has its advantages. The mild weather and lush rolling countryside supply all the ingredients to make Cork itself a premier food producer. There is an abundance of cheese, vegetables and grass-fed beef suppliers in the region. Visitors are amazed at how good the food is in Ireland and they can taste the quality and goodness.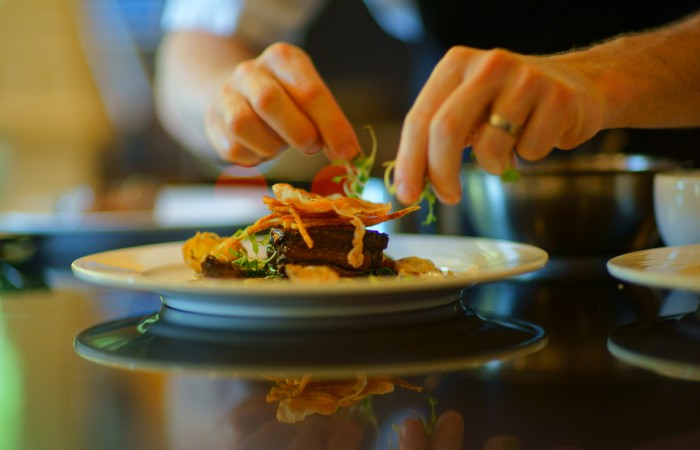 3. Vibrant Town with Lots to Do
Kinsale is a magical location beyond food with so many things for you and your guests to do. It even has its own website www.kinsale.ie which showcases the array vibrant events and activities that are available in the town. This takes a lot of stress out of the planning for and entertaining your guests. Instead of them being under your feet for the entire trip, they can go off an explore Kinsale and turn it into a mini vacation.
Here's a few popular activities;
golf at the world renowned Old Head Golf course
watersports, surfing, fishing, sailing around the stunning coastline
arts & cultural activities with many well-known artists based here
town is steeped history – Battle Kinsale, Charles fort, 911 Garden of Remembrance
excellent walking tours with knowledgeable guides
4. Dazzling Wedding Photos
The stunning backdrop of Kinsale not only set the mood and tone of your wedding celebrations but is also provides a stunning setting for your wedding photography. From breath taking sea views and romantic little beaches, to historical Charles Fort and beyond, the possibilities are endless. You are not limited by choice and what fantastic choices you have! The only problem you will have is deciding which ones to frame!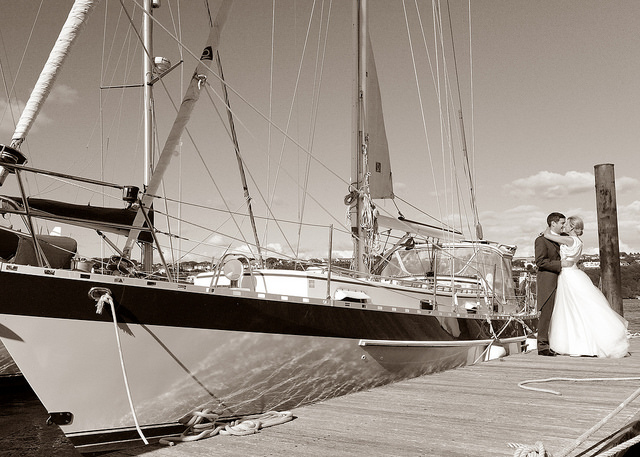 5. Range of Accommodation Options
You will be hard-pressed to find any other wedding destination that offers as much ambience as Kinsale. There are many options for venues each with their own unique selling points and unusual locations. But if you want your guests to have an exceptional experience, Ballinacurra is the clear winner. With 22 rooms it can allow you to keep your nearest and dearest under one roof. But there is an abundance of other accommodation to suit all pockets for overflow guest; from Glamping, to B&B's, short term rentals to the various hotels in the area. Kinsale natives are extremely friendly and hospitable towards visitors – be they from the town next door or countries far across the globe.  You can feel at home in Kinsale, and interact with the welcoming local characters with ease.
Contact Us:
When you book your wedding with Ballinacurra we can advise on all the activities and contacts available for local activites. So you can Fast-track your planning and we can help you plan an amazing experience for you and your guests. What are you waiting for? Get in touch today and we can arrange a private viewing. Contact Des [email protected] 021 4779040.